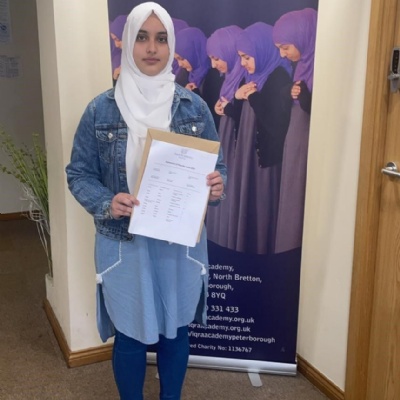 There were smiles all round at Thomas Deacon Education Trust this week, as students from across the Trust's schools received their long-awaited GCSE and A-Level results.
Earlier this year, the Government confirmed that this year's results would be based on teacher assessment. This assessment has been robustly carried out using evidence such as mock exams, coursework, essays or in-class tests set by teachers to decide grades.
At Queen Katharine Academy in Peterborough, particular A-Level achievements included those of Federico Sasso, who achieved an A* in Italian, an A* in French, an A in German, an A in AS English Literature and Language and an A in AS Maths.
Similarly on GCSE results day, Harmony Wright's dedication to her studies was reflected in her ten GCSEs including Grade 9 in History, Grade 8 in Biology, Chemistry, English Language and Spanish, as well as Distinctions in Media and Travel and Tourism.
Lynn Mayes, Principal at Queen Katharine Academy, said: "We are once again, ever so proud of what our students have achieved. I want to pay tribute to the young people, staff and families that have worked so effectively together to create a culture and legacy of success over a number of years and especially this year in the most difficult of circumstances."
Over at Thomas Deacon Academy, highest performing students included Monika Grabowska, who gained A* grades in Biology, Chemistry and Maths, earning a well-deserved place to study Medicine at University College London. At GCSE Level, Poppy Moore received an amazing seven grade 9s and one grade 8 and Hanifah Hussain and Tehreem Rashid achieved a very impressive six grade 9s and two grade 8s.
Principal at Thomas Deacon Academy, Rick Carroll, said: "It has been an incredibly challenging academic year and these results are a testament to the commitment and hard work of our students and staff."
At Richard Barnes Academy, Paris Abrantes secured five qualifications at level 4-9, including GCSE grade 4 in English and GCSE grade 5 in Maths. Becky Carpenter also achieved five qualifications at level 4-9, including GCSE grade 4 in English, GCSE grade 5 in Maths, and GCSE grade 6 in Art. Both Paris and Becky achieved a Level 2 Distinction in their Health and Social Care qualification.
Nick Morley, Principal of Richard Barnes Academy, said: "We are thrilled with this excellent set of GCSE results. Our leaners have overcome so many challenges this year to get to where they are today and should be so proud of their accomplishments."
At Iqra Academy, a number of students achieved 10+ GCSE passes, including Maha Qadir and Zainab Mahmood, who achieved 10+ GCSE passes each, all at grade 7+. Afifa Iqbal and Zubaria Sarwar also both achieved 10+ GCSE passes, all at grade 6+.
Michael Wright, Principal at Iqra Academy, said: "We would like to say a huge congratulations to each and every one of our students who have achieved another excellent set of GCSE results this year. They have been so dedicated to their studies throughout this turbulent period and it is brilliant to see their hard work rewarded."
Mick Gernon, who will take over from Julie Taylor as Chief Executive of TDET in September, said: "I, am delighted with the outstanding set of results we have seen across the Trust. In each and every one of our schools, we have young people progressing into exciting employment, education or training opportunities that will prepare them for the next steps in their lives.
"It is an honor to be walking into a Trust with such excellent colleagues, whose commitment, dedication, and enthusiasm throughout the last eighteen months has been so inspiring to see. Without them, the Trust's success this week would not have been possible."
For more information about TDET, please visit: www.tdet.education.