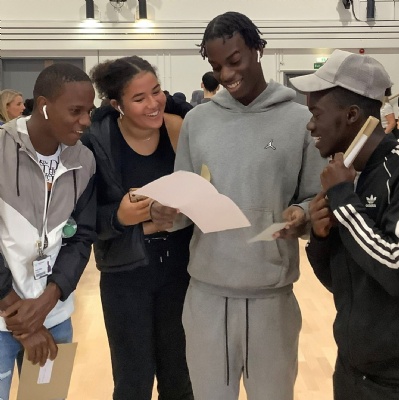 Secondary students across TDET academies are proudly celebrating receiving their GCSE and A-level results.
Students across the Trust have showed fantastic dedication and focus working towards their exams over the past two years, rising to the challenges of multiple lockdowns and periods of online and remote learning due to the Covid pandemic.
Their perseverance was rewarded when they received their results. Many students had shown excellent progress by fulfilling or exceeding expectations, and there were a significant number of exceptional grades awarded across both GCSE and A-levels.
At Queen Katharine Academy, A-Level achievements included Iveta Mockute, who achieved an impressive Grade A* in her Extended Project, as well as A grades in French, Sociology, English and Fine Art. Iveta is moving to France for a year before returning to study French at university.
On GCSE results day, Rima Alsabbagh achieved an impressive 11 GCSEs including a Grade 9 in Arabic, a Distinction in Business Studies and a Distinction* in Travel and Tourism.
Jane Driver, Head of School at Queen Katharine Academy, said: "Our students have shown outstanding commitment and dedication to their studies over the past two years, and we are delighted to see them reap the rewards of their hard work with some brilliant individual results."
Over at Thomas Deacon Academy, Dhruv Erda gained A* grades in A-Level Mathematics, Further Mathematics and Physics, and an A in Biology. He is looking forward to studying Mechanical Engineering at Durham University.
On GCSE results day, Jimmy Borowski achieved an incredible grade 9 in all his eight subjects, while Saher Anwar and Izzah Tulhat were both awarded an amazing six grade 9s and two grade 8s.
Rick Carroll, Executive Principal at Thomas Deacon Academy, said: "A huge well done to all our exam students. Their dedication to their studies and hard work over the past two years has been impressive, upholding our school values by showing immense courage, commitment and confidence. This is reflected in a superb set of results and many fantastic individual achievements."
At Richard Barnes Academy, a specialist educational setting which provides alternative education to students at risk of permanent exclusion or who have been permanently excluded from school, a number of students who achieved 5+ Grade 4-9 GCSEs, while a record number achieved 5+ Grade 1-9 GCSEs or equivalent.
Sarah Judge, Assistant Principal for the Quality of Education for Richard Barnes Academy, said: "We are extremely proud of all our students, who worked so hard in challenging circumstances throughout the pandemic and celebrate finishing their time at school today.
"Whether our students are now moving onto apprenticeships or further education, we would like to wish them luck for a bright and successful future."
Scott Hudson, Chief Executive at TDET, said: "I would like to congratulate each and every one of our exam students on their hard work and commitment to their studies over the past two years.
"In an unprecedented time of disruption caused by the Covid pandemic, our students showed resilience and focus to achieve an excellent set of results. These will provide a solid foundation for them to move into further education or study, employment or training, as well as opening up a multitude of career opportunities in the future.
"I'd like to thank the fantastic teaching and support teams across TDET's academies, your enthusiasm, dedication and care for our young people truly helps to transform lives."