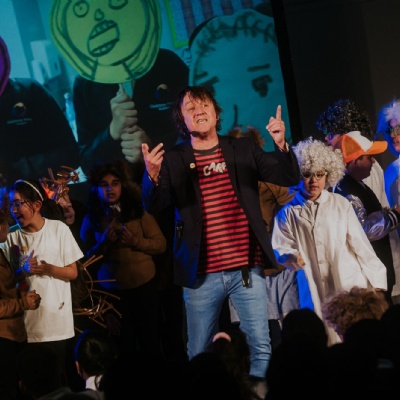 Year 5 pupils at Gladstone Primary Academy, part of Thomas Deacon Education Trust, were the stars of the show in a new theatre production that debuted in Peterborough on 26 May. The show, called Epic Fail, was created by acclaimed theatre maker and musician, Kid Carpet, and is part of a national theatre tour.
All 90 of Gladstone Primary Academy's Year 5 pupils took part in two weeks of theatre workshops with Kid Carpet, with over 30 pupils selected to be onstage with Kid Carpet for the final performance to their parents, friends and family. Epic Fail is an entertaining family show that explores the idea of initial failure being essential to creative discoveries, with the children being the star performers who save the day. It is part of a national theatre project by Moving Roots Touring Network and, after its production in Peterborough, will move on to tour Cardiff, Stoke and Wigan.

In Peterborough the show was produced by Jumped Up Theatre, a local community theatre organisation based at the Key Theatre, which puts on productions across the city, together with Kid Carpet and local actor Laura Samson.

Kate Hall, Creative Producer at Jumped Up Theatre said: "At Jumped Up Theatre we aim to create positive change for communities through access to the arts. Epic Fail is a fun show with the positive message that the best ideas often come from mistakes, inspiring the children to take risks and be creative in life. It was brilliant to work with the pupils at Gladstone Primary Academy and to see their enjoyment throughout the workshops, rehearsals and final performances. They all did an outstanding job!"

Simon Martin, Headteacher at Gladstone Primary Academy, said: "Being part of the Epic Fail production has been an amazing creative experience for all our Year 5 pupils. As well as having the opportunity to work with an artist in the interactive workshops and to experience how theatre is made, they were excited to deliver the final fantastic performance to their families and friends.

"We are also fortunate that local actor, Laura Samson, who worked with us on the Epic Fail project is continuing to work at Gladstone Primary Academy with our Year 6 pupils. Together they are creating audio pieces which will become part of an online magazine of young people's creative work called Right Here, Right Now, which will be launched in July."

To find out more about Gladstone Primary Academy, please visit www.gpa.education.