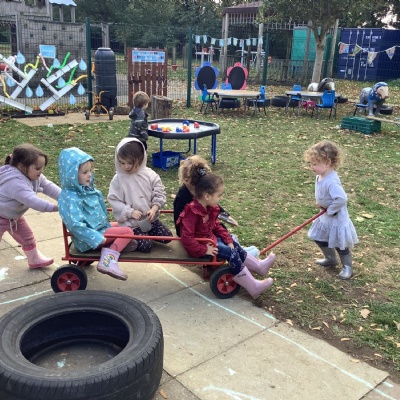 Welbourne Primary Nursery, a new childcare setting in Werrington, opened its doors last month to provide nurturing and educational day care for babies, toddlers and pre-school children.
The nursery is based at Welbourne Primary Academy, part of Thomas Deacon Education Trust, and provides first-class childcare in dedicated facilities, with a focus on fun and educational activities.
A highlight of its provision is a large outdoor area enabling children to 'free flow' from indoor to outdoor play. The outdoor area features climbing equipment, a bug hotel for children to explore mini-beasts and the natural world, and different resources to encourage practical play. Plans are also in place to develop a vegetable garden for children to grow their own vegetables.
Inside the nursery, the first-class facilities include a dedicated baby room, a colourful and fully-equipped indoor play area, a cosy sleep room, and kitchen and changing facilities.
The nursery has relocated from its previous base at local secondary school, Queen Katharine Academy, enabling the sharing of staff expertise, facilities and activities with Welbourne Primary Academy. This collaborative approach will give the children a variety of experiences and opportunities, ensuring a smooth transition into school at the end of their time at nursery.
Alison Di Meglio, Early Years Manager, said: "Our team was excited to open the doors of the new nursery last month to the children, and their parents and carers. We are a welcoming, friendly nursery, with a trained and experienced team which takes pride in providing exceptional care for all the children in our setting - from babies to pre-schoolers.
"The children are enjoying experiencing and exploring the new facilities and we have lots of plans to make the most of our new space. We are also looking forward to developing further links with the Academy, and using areas such as their library and hall to offer the children a variety of different activities."
Scott Hudson, Chief Executive at Thomas Deacon Education Trust, said: "We are delighted to open Welbourne Primary Nursery, which will provide excellent childcare for babies, toddlers and pre-schoolers in the area.
"The nursery team has worked incredibly hard to create a welcoming, fun and educational environment. This stage of education is an important aspect of early childhood development and it is wonderful to see the children learning new skills, making the most of the facilities and activities and enjoying their time at nursery."
Welbourne Primary Nursery is open in term time, plus staff training days, between 7.45am and 5.45pm and provides full day care as well as morning and afternoon sessions for children. It accepts two, three and four-year-old funding as well as the 30-hour free childcare and tax-free childcare.
The nursery currently has some spaces available, and the staff team warmly welcomes visits to the setting. Please contact Alison Di Meglio, Early Years Manager, for further information at alison.dimeglio@wel.education.
To find out more about Welbourne Primary Academy, please visit: www.wel.education