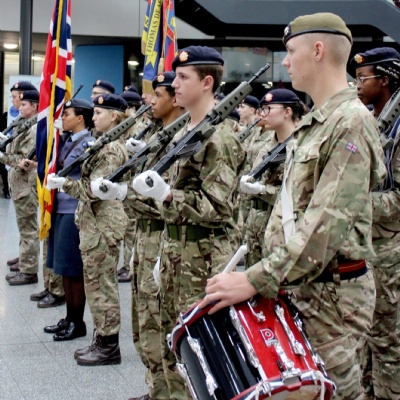 Students and staff across Thomas Deacon Academy's junior and senior schools commemorated Remembrance Day with a special service on Friday 11 November.
The prestigious event honoured the memory of all those who have fought and lost their lives in military service. Led by the academy's Combined Cadet Force (CCF) and Lt Col. Thompson, it was live-streamed via YouTube and broadcast to more than 2,500 staff and students within classrooms across the academy.
The service was set against a spectacular waterfall cascade of poppies, made by students across both junior and senior academies, with an oak lectern inscribed with names of former students who died during World War One and World War Two as the focal point. The lectern was gifted in 1952 by the Old Deaconians' Association, a former organisation made up of the alumni of Deacon's school.
This year's event began with a moving video compiled by the academy's CCF and the Character Team, remembering the names and stories of former students who fought and died in the wars.
Following an introduction from Principal Rick Carroll, the Cadets marched in from the north entrance to salute and present the wreath. All students stood to listen to the last post being played and to observe a two-minute silence, in memory of the soldiers who sacrificed their lives.
After a reading from one of the Cadets, the academy's Principal Boy and Principal Girl read the names of the fallen and received the wreath - which was laid on the foot of the lectern. The Cadets then marched out, followed by a final address from Lt. Col Thompson.
Rick Carroll, Principal, said: "We hold a Remembrance Service every year and it is an immense honour to pay our respects to the brave soldiers, some of which were former pupils of this academy, who fought and died for our freedom.
"Our students were extremely proud to be part of this event, whether they were involved in making the commemorative video, part of our CCF, or crafting poppies with messages of remembrance on them. I would like to thank them for their support and the respect they have shown.
"The Remembrance Service is an important event for us and I would also like to thank all those in the community who made it possible, as well as the Thomas Deacon Foundation charity, which works alongside us to keep our history alive."
For more information about Thomas Deacon Academy, part of Thomas Deacon Education Trust (TDET), please visit www.tda.education. For more information about TDET, please visit www.tdet.education.