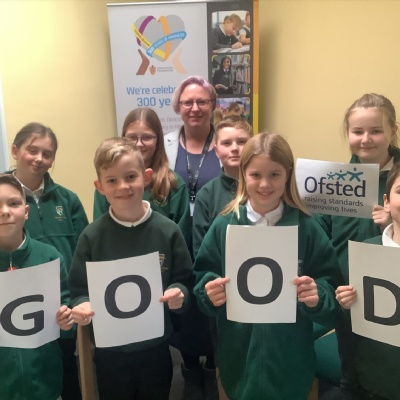 Staff and pupils at Upwood Primary Academy are celebrating the results of their latest Ofsted inspection which judged the school to be 'Good' in all areas.
The team at Upwood Primary Academy was delighted to receive a rating of 'Good' across all five key areas within Ofsted's framework; quality of education, behaviour and attitudes, personal development, leadership and management, and early years provision.
This was the Upwood Primary Academy's first full inspection since joining Thomas Deacon Education Trust in 2018 and since the Covid-19 pandemic began, with the report highlighting improvements that have been made following its conversion to academy status.
The report, which was published this week, stated: "Upwood Primary Academy pupils are polite and friendly. There are positive and respectful relationships between pupils and adults. Pupils are expected to work hard and follow the school rules, and they do."
"Clear expectations and routines are established, and effectively set out for pupils to follow. This leads to pupils learning in a calm and purposeful environment."
The school was praised for promoting, developing and celebrating its pupils' differences and accomplishments with the report stating: "Pupils are respectful of each other regardless of differences in their backgrounds. They develop their understanding of other cultures and celebrate differences explaining that 'being different doesn't matter. It is the individual that is important'."
Amy Woolner, Principal at Upwood Primary Academy, said: "I would like to extend my gratitude and congratulate my team of colleagues, both in our academy and across Thomas Deacon Education Trust, for the hard work and dedication they have shown in achieving this fantastic Ofsted report. It is something of which we can all be really proud.
"Together, we are committed to providing the very best education to the children that we serve, enabling them to thrive as individuals - and we look forward to building on this success in the future."
Staff at the academy were also praised for providing enriching learning experiences for all pupils, with the report stating: "Children in the early years achieve well. Activities are organised to match children's needs. These well-considered activities extend children's experiences of different areas of the curriculum at the same time."
Arrangements for both safeguarding and SEND pupils at the school were also reported as being effective: "Pupils with SEND follow the same curriculum as their peers. Accurate identification of needs, and teachers' knowledge and expertise enable appropriate adaptations and support to allow them to access the curriculum."
Scott Hudson, Chief Executive Officer of Thomas Deacon Education Trust, said: "I would like to congratulate our colleagues at Upwood Primary Academy and all those across our Trust who have played a part in this achievement.
"We are all very proud of the school community and their commitment to providing the highest quality educational provision, so that every child is empowered to be a confident learner and successfully prepared for their future."
For more information on the school please visit www.upa.education.