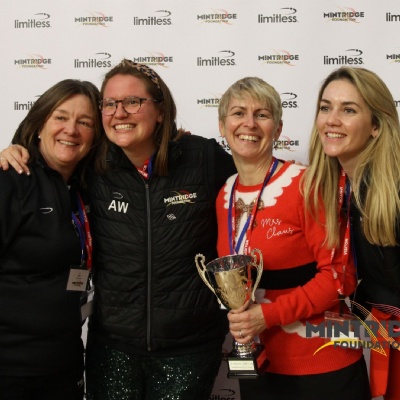 Becky Ford, Principal of Warboys Primary Academy, has been awarded Fundraiser of the Year 2022 by The Mintridge Foundation, a national charity that enhances life skills in children through positive sporting role models, at their annual awards ceremony.
Becky raised over £700 for The Mintridge Foundation by completing the Vitality Big Half run, the TCS Virtual Marathon and the Great Eastern run last year, as well as organising a sponsored curry night.
She has been working closely with The Mintridge Foundation for two years to raise the profile of sport and its benefits for children at Warboys Primary Academy, part of Thomas Deacon Education Trust (TDET).
The Mintridge Foundation runs programmes within schools, using inspirational Olympians, Paralympians and professional sports stars as ambassadors to offer enriching experiences to pupils. Pupils at Warboys have enjoyed exciting visits from rugby player Justine Lucas, gymnast Grace Harrison and athlete Iona Lake. This year, the children were visited by footballer Fil Kamps, and will also be welcoming basketball player Marko Backovic and martial art black belt Khadijah Safari.
As well as these inspirational visits, pupils have also had opportunities to be mentored by the Foundation's ambassadors - enjoying fantastic events such as being mascots in the Women's Six Nations game between England and Ireland.
Becky is planning to use the funds raised to upgrade the academy's existing programme with The Mintridge Foundation so two children can have the opportunity to be mentored for six months by one of its ambassadors. She said: "It was fantastic to win Fundraiser of the Year and to know that the money I've raised will be used to benefit pupils at our academy.
"I've always been passionate about sport, riding competitively in show jumping, dressage and cross country until 2014 and have since taken up running. Sport has so many benefits for young people, giving them the opportunity to develop a wide range of skills and attitudes that support their well-being and all-round success.
"Our pupils love working with the Olympians, Paralympians and professional sports stars from The Mintridge Foundation and, through our work with them, have learned to celebrate difference and overcome challenges. The children have been inspired by their stories and this has raised their aspirations and expectations of themselves, motivating them to work harder and apply more effort to pursue their dreams. They've also enjoyed some amazing experiences, which has brought this ethos to life."
Alex Wallace, Founder of The Mintridge Foundation, said: "Becky has done a brilliant job fundraising for the benefit of pupils at Warboys Primary Academy, showing amazing commitment, determination and enthusiasm, and we were delighted to award her Fundraiser of the Year 2022 at our Foundation awards ceremony.
"It is exciting to see academies such as Warboys Primary Academy exploring different ways to help inspire the next generation and we hope to encourage more schools to follow in their footsteps. Congratulations Becky, we are looking forward to working together and developing our partnership further - and continuing to raise aspirations for children and young people in local communities."
For more information on Warboys Primary Academy, visit: www.wpa.education.