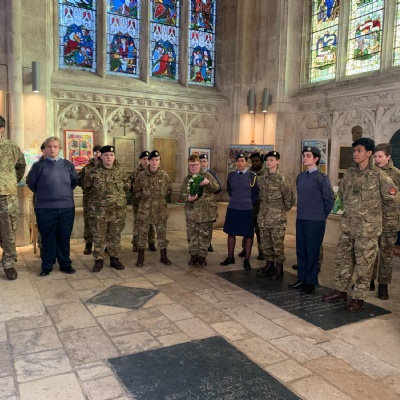 A prestigious memorial service was held at Peterborough Cathedral on Tuesday 7th February to commemorate Thomas Deacon and Queen Katharine of Aragon, the namesakes of two of the Trust's academies. The cathedral is home to memorial sites for both historical figures.
The annual service, organised by TDET and the charity Thomas Deacon Foundation, was attended by key members and pupils from academies across the Trust.
Led by Revd Dr Rowan Williams, Canon Precentor at Peterborough Cathedral, the service began with readings from John Turner, Chair of Thomas Deacon Foundation, and Rick Carroll, Principal of Thomas Deacon Academy.
Two Gladstone Primary Academy pupils gave a presentation about Thomas Deacon and his achievements, and the Head Students of Thomas Deacon Academy and Deputy Head Student of Queen Katharine Academy also gave readings.
The Trust's Combined Cadet Force (CCF) were then brought to attention to lay a wreath on Thomas Deacon's memorial and a pomegranate, Queen Katherine's personal emblem, on her burial place. The service ended with a reading from Scott Hudson, Chief Executive of TDET, and closing prayers.
Scott Hudson, Chief Executive of TDET, said: "We are extremely proud of our Trust's unique history. Founded when Thomas Deacon left a legacy in his will in 1721 to open a school in Peterborough, TDET now educates more than 5,000 pupils across Cambridgeshire. It was an immense honour to commemorate Thomas Deacon's generous legacy and determination to transform the lives of young people at Peterborough Cathedral."
Jane Driver, Head of School at Queen Katharine Academy, said: "Our academy's namesake, Queen Katharine of Aragon, was kind, resilient and an early ambassador for education - donating funds to colleges and pioneering an extensive programme of relief for those in need. Queen Katharine's values are as relevant to our students today as they were then, and we were incredibly proud to come together to recognise and celebrate her achievements."