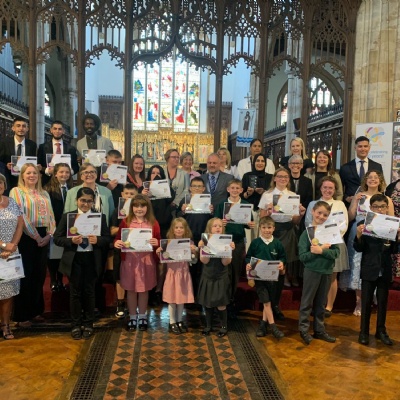 Students and staff across Thomas Deacon Education Trust (TDET) academies attended the prestigious TDET and Thomas Deacon Foundation Act of Kindness Awards at St John the Baptist Church, Peterborough, on Thursday 6th July.
These awards commemorated 300 years since the Trust's founder, Thomas Deacon, left a legacy in his will to open a school in Peterborough. Students and staff across the Trust have been carrying out Acts of Kindness this year within their academies and local communities to honour Thomas Deacon's original act of kindness 300 years ago.
The shortlisted students and staff members from across the Trust's seven academies received awards and commendations for their kind deeds, which included charity walks, cake sales, teaching after-school English lessons to parents/carers, and supporting younger children and those with additional needs.
Trophies were also awarded to the overall Student Winner and overall Staff Winner. The winning student, Ismail Ahmed from Thomas Deacon Academy, led a group of Sixth Formers to raise funds for a family of refugees claiming asylum in the UK, helping them to find accommodation and furnish their home with essential items. Rozina Fazil, from Gladstone Primary Academy, was the overall Staff Winner, going above and beyond in her role as Family Liaison Officer to care for the families in Gladstone's academy community.
John Turner, Chair of Thomas Deacon Foundation, said: "Our ethos is to promote the legacy of Thomas Deacon and his incredible generosity in funding and setting up a school in Peterborough 300 years ago. It has been inspirational to hear about all the acts of kindness that have been carried out across TDET throughout the year to honour Thomas Deacon's memory, and which have made a real difference to our academies and local communities. Each kind deed adds up to transform the lives of our young people, their families and our community."
Scott Hudson, Chief Executive of TDET, said: "It was fantastic to come together as a Trust to celebrate this momentous year in our history. Every pupil, from our nursery pupils to our Sixth Form students, as well as our staff members, have been involved in carrying out Acts of Kindness this year. I'd like to thank everyone for their compassion and commitment to continuing Thomas Deacon's unique legacy to our Trust and our community, and a big well done to our winners!"