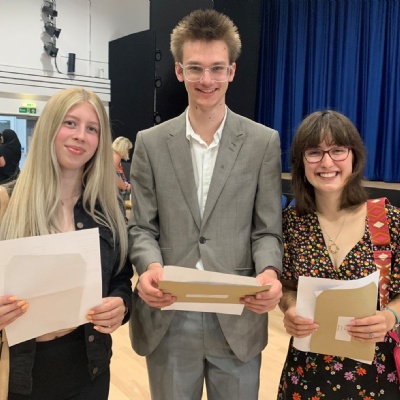 Well done to all TDET Sixth Form students!
Thomas Deacon Education Trust is very proud of all our Post-16 students based in our Sixth Forms at Queen Katharine Academy and Thomas Deacon Academy for their outstanding A-Level and vocational exam successes. These are the result of two years of hard work, dedication and perseverance, and reflect the incredible progress students have made during their Sixth Form journey.
We pride ourselves on creating a culture of high aspirations so all our students can reach their full potential, and would like to thank everyone who has supported and encouraged our students during their time in TDET Sixth Form.
Particular successes include:
Joanna Karlinska: A*(Sociology), Distinction* (Psychology), A (Polish) and Distinction (Performing Arts). Joanna is going to study Psychological and Behavioural Science at Durham University.
Kamila Tomasevic: Distinction* (Business Studies), Distinction (Travel and Tourism), A (Russian). Kamila is going to study International Business at the University of Birmingham.
Vaniza Mahmod: A* A* A* (Health and Social Care). Vaniza is going to study Nursing (Adult and Mental Health) at Birmingham City University.
Leo Keyter: A (English Literature), Distinction (Performing Arts) and B (Fine Art). Leo is going to study Fine Art at Norwich University of the Arts.
Faith Donzwa (Head Student): A (Health and Social Care), Distinction (Sports Studies) and B (Biology). Faith is going to study Physiotherapy at the University of Leicester.
Jouin Baca: Biology, Chemistry, Maths and Further Maths all at Grade A, going on to study Chemistry at university.
Aisha Jaral: Business Studies, Economics and Sociology all at Grade A, applying for apprenticeships in accountancy.
Mehmet Kockat: Biology, Chemistry and Maths all at Grade A, progressing on to Loughborough University to study Chemistry.
Tamearon Mullings: A* in Maths and A Grades in Physics and Further Maths, going on to study Mathematics at university.
Aqsa Ahmed: Distinction* in Health and Social Care, A* in Sociology and B in Psychology, progressing on to De Montford University to take Education Studies.
We wish every one of our students every success in the next chapter of their lives!
If you or your child are interested in applying for TDET Sixth Form, please visit our webpage for further information: Thomas Deacon Education Trust - Sixth Form (tdet.education)