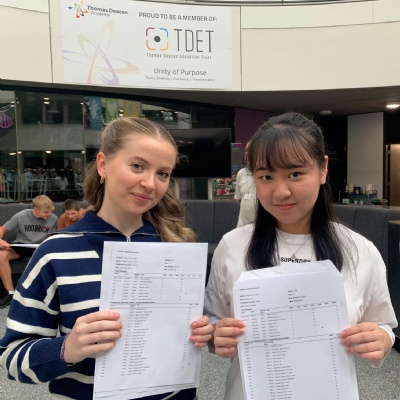 Year 11 students from Queen Katharine Academy, Thomas Deacon Academy and Richard Barnes Academy are celebrating their GCSE exam results today.
The results were the culmination of two years of hard work and commitment and both staff and students were delighted with the excellent progress made, reflected in many exceptional individual grades.
Some outstanding individual successes include:
Queen Katharine Academy:
Gabriela Kuruc, who attained 11 GCSEs including a Grade 9 in Maths, English Literature and Polish, as well as Grade 8 in Physics, Chemistry, Biology, Spanish, English Language and History.

Sachitkumar Arulkumar, who achieved 10 GCSEs including the top grade of 9 for Maths, as well as a Grade 7 in Chemistry, Physics, Media Studies and History.

Yasmin Elkhouly, who gained 10 qualifications including a Distinction in Health and Social Care, and Grade 8 in Sociology, Biology and Spanish.

Neja Teiserskyte, who attained 10 qualifications including a Distinction in Creative and Performing Arts and a Grade 7 in Biology, Chemistry, English Literature, Maths and Media Studies.
Thomas Deacon Academy:
Megan Ferris and Eunice Yu, who were both awarded seven Grade 9s and one Grade 8.

Wiktoria Apakitsa, who achieved six Grade 9s, a Grade 8 and a Grade 7.

Aiman Dad Azam, who attained five Grade 9s and three Grade 8s.

Ema Antanaviciute, who achieved four Grade 9s, three Grade 8s and a Grade 7.

Zulaikha Khan, who was awarded three Grade 9s and five Grade 8s.
Richard Barnes Academy:
Richard Barnes Academy is an alternative provision academy. Students follow a learning pathway which is suited to their level and many, as a result of their individual successes today, are now prepared for and able to progress onto the appropriate next destination.
Scott Hudson, Chief Executive at TDET, said: "I would like to congratulate all our Year 11 students for their examination successes, and thank you to everyone who has nurtured and encouraged these students for their support and dedication in helping them achieve their aspirations.
"We look forward to welcoming back the students in September who are continuing their education with us across TDET's Sixth Forms. For those students who are departing, we would like to wish them every success for a bright and successful future."
If you or your child are interested in applying for TDET Sixth Form, please visit our webpage for further information: Thomas Deacon Education Trust - Sixth Form (tdet.education)