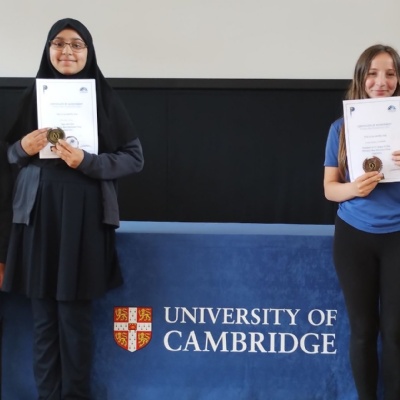 Gladstone Primary Academy, part of Thomas Deacon Education Trust (TDET), emerged victorious once again at the National Spanish Bee Grand Final held at the University of Cambridge.
The annual competition, which tests the language skills of Year 5 and 6 pupils, attracts thousands of participants from schools across the country. This year a team of four talented linguistics from the school took up the mantle: Zainab and Sodaba from Year 5 and Zaidaan and Maria from Year 6.
Simon Martin, Headteacher at Gladstone Primary Academy, expressed his pride in the pupils' achievements, stating: "Securing our fourth consecutive win at a national competition is an outstanding accomplishment, and we are incredibly proud of all involved. Not only does it showcase the extraordinary talents of our pupils, but it also highlights how integral languages are to our curriculum."
He added: "Our dedicated teaching staff, Carlota Camara and Rebecca Wale, made an exceptional effort preparing the pupils for the competition this year. Sadly, this was Carlota's last year teaching Spanish at the school, as she returns to Spain in September. However, her legacy will live on at GPA as we continue to instil a love of languages in our pupils."
Three of Gladstone's four pupils qualified for the grand final. Here, pupils were required to provide the Spanish translation of a word, with judges focusing on fluency, accuracy, and speed.
The talented trio showcased exceptional linguistic abilities and dedication to their studies, with Zainab securing the first-place position, Maria achieving a well-deserved third place, and Sodaba attaining a commendable fourth place.
Carlota Camara, Spanish teacher at Gladstone Primary Academy, commended the winners: "All our pupils demonstrated exceptional commitment and hard work preparing for this competition, and we are so proud of all of them. Witnessing our pupils embrace language learning and enthusiastically participate in events like the Spanish Bee fills us with immense joy and pride."
The victory marks the fourth consecutive time that Gladstone Primary Academy has claimed the National Spanish Champions title at the Primary Spanish Bee, a testament to the school's dedication to language education and academic excellence.
For more information about Gladstone Primary Academy, please visit: www.gpa.education