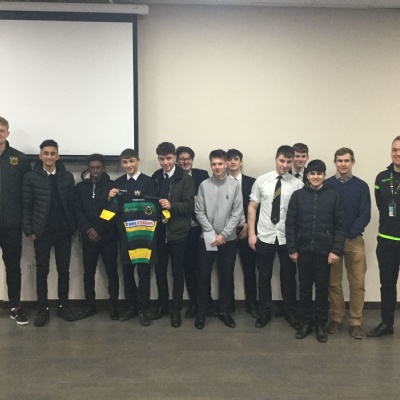 TDA rugby players achieve success with Northampton Saints in 'Project Rugby'
In March 2017 Northampton Rugby Club started working with secondary schools in the region on a programme called Project Rugby. A group of keen rugby players from Y9 and Y10 were identified to participate in the programme, which started with the delivery of coaching sessions at the Academy.
After several months of coaching with the Saints development team, the students attended a Primary school rugby day where they became the coaches and officials for the day, enabling them to share their learning with younger students.
Upon returning to the Academy in September, Project Rugby continued with a focus on obtaining evidence for student coursework and this evolved further to see the students tasked with a rugby project. The brief for the project was to identify an innovative way to promote rugby in the local area.
Last week the TDA students visited the Franklin's Gardens, home of The Saints, to present their projects to a panel of judges, along with teams from Hampton College and St Ivo School.
After a morning touring the stadium, visiting the home/away changing rooms and learning some of the Saints' secret mind games, the teams prepared to pitch their ideas to the judges, with three projects pitches delivered by the TDA team, four by the Hampton team and two by the St Ivo 6th form team.
The judges were so impressed with the TDA students' projects that they announced them as overall winners of the project, presenting each team member with tickets to see a Saints match and a signed Saints shirt for the Academy. The Saints Community Team also commited to support TDA team in seeing their project through to fruition.
TDA will spend the coming months planning a charity rugby day to raise funds for the wheelchair rugby event 'Rugby for All', which the Saints will support by loaning their rugby wheelchairs to the Academy.