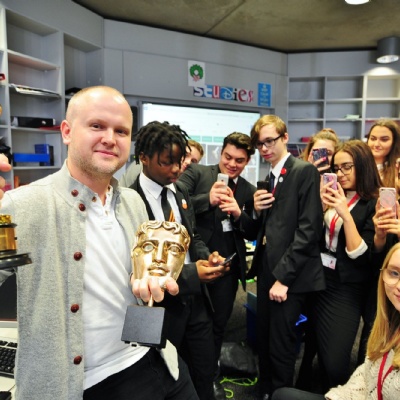 Former Deacons student and award winning make-up and special effects artist wows staff and students with his BAFTA and Oscar.
Thursday 15th March was a very special day at Thomas Deacon Academy as they welcomed former Deacons students and award winning make-up and special effects artist, David Malinowski.
Throughout the afternoon, David spent time in lessons talking with drama, media, photography and art students before delivering a question and answer session the Atrium for staff and students across the academy.
David talked of his journey from studying in Peterborough to working for Madame Tussaud's before breaking into TV and film. David shared how it felt to be announced as the BAFTA and Oscar award winner for his work on Darkest Hour and proudly showed off the awards, allowing the students to take photographs and selfies.
This was an exciting and inspirational opportunity for our students, one that highlighted that it is possible to achieve your dreams with hard work, perseverance and determination.