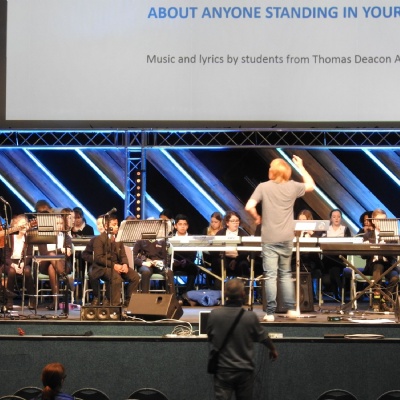 Thomas Deacon Academy works with Peterborough Music Hub on a Creative Music Project.
Y8 'Arts' students from Thomas Deacon Academy have been working on a six week Creative Music Project with Peterborough Music Hub and partner schools, Nene Park Academy, St John Fisher, Ken Stimpson and JackHunt. The project, sponsored by Arts Council, England, aims to encourage creative thinking and a love of music.
Michael Cross, programme Manager, Peterborough Music Hub and partners, John Cooper – actor and director, James Brecon, musician and Lewis Hall, musician and composer worked with each school throughout the project to develop ideas and content for the project.
Starting with the simple idea of a pet, the students explored what a hamster might do in a school, music environment and what sounds may portray his adventures. Over four workshops, the students worked in their respective schools to create a five-minute musical piece, including singing and narrative to tell their story of Hamilton the hamster. After writing their piece and perfecting their performance, the project teams came together for a rehearsal event at Kingsgate Church to combine the work from each school, creating one performance.
Each student was given a specific part to play in the story of Hamilton the hamster and after the rehearsal day the project was ready to be performed to an audience. On Tuesday 20th March, pupils from The Beeches, Welland Academy and Queen's Drive Infants arrived at Kingsgate Conference Centre for the live performance of a Hamsters Tale.
Head of Music, Matthew Moore said, "TDA students did a fantastic job! They contributed some incredibly catchy songs to the project, and put in great performances on the day. They gained valuable experience of working with other musicians and performing in a large venue. I am really proud of their efforts, and they should be too!"
Michael Wright, PMB said, 'Peterborough Music Hub has enjoyed a wonderful spring term creating a brand new show with students across the city. The creativity and skill demonstrated by the students engaged in the project has been fantastic, with some excellent songwriting produced for the piece.
The focus of the project was to put music at the heart of the process and highlighting the importance of music in performance. The work, aimed at primary school audiences, was performed to around seventy local school children as part of a rehearsed reading. The children had a great time, watching 120 students on stage singing, playing instruments and storytelling, providing an inspirational morning of music.'