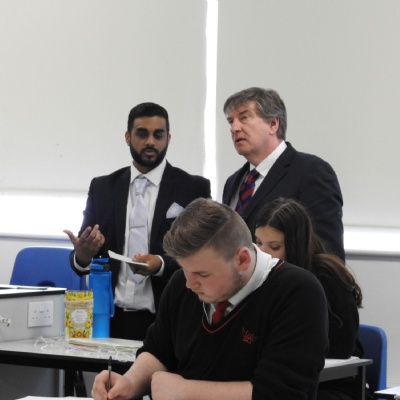 The National Schools Commissioner, Sir David Carter, visit students and staff at Queen Katharine Academy and delivers a workshop to Peterborough and Cambridgeshire school leaders at Thomas Deacon Academy.
Sir David Carter was appointed as National Schools Commissioner in 2016. His role includes working closely with the eight Regional Schools' Commissioners to support school leaders, teachers and governors.
Sir David Carter is responsible for ensuring consistency in the decisions made across the eight regions, developing and sharing the best school improvement strategies and promoting the benefits of being a member of multi-academy trusts and free schools.
Sir David Carter will be visiting Queen Katharine Academy to witness first hand the significant improvements that have been made at the school since it joined Thomas Deacon Education Trust in January 2017. Since joining the Trust, the academic results at the school have improved and first choice places have risen.
Sir Carter will be touring the Academy and meeting with staff and students before attending a meeting of Headteachers from across the city at Thomas Deacon Academy to discuss best practice and local issues.
Principal, Scott Hudson, said: "We are incredibly excited to be hosting Sir David Carter at Queen Katharine Academy and are very much looking forward to showing him around the academy. It is an honour that he has chosen our school to visit and I look forward to showing him the excellent transformative work we are doing."
Julie Taylor, Chief Executive Officer of Thomas Deacon Education Trust, commented: "We are thrilled to welcome the National Schools Commissioner to Peterborough, and particularly to Queen Katharine Academy. His advice at both the headteachers meeting and during his walk around the Academy will be invaluable and I look forward to discussing local issues with him and learning from his expertise."