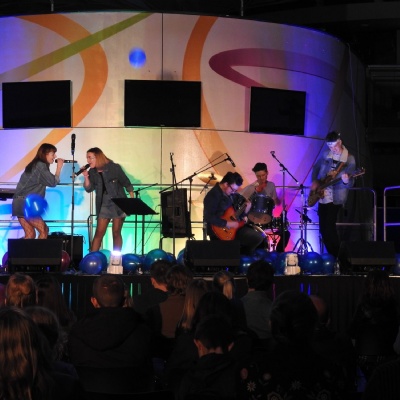 Thomas Deacon Academy Houses go head to head in the annual Battle of The Bands
Friday 27th April saw the annual Battle of The Bands take place at Thomas Deacon Academy.
After months of rehearsals, the House bands took to the stage to deliver a fantastic evening of live music and after all six bands had performed, the staff band and sixth form band kept the audience entertained while the judges deliberated.
With such strong performances from all bands, the decision as to who would take the crown was certainly a difficult one. After much discussion, the judges agreed that 'they were blown away' by one particular band, who performed a very tight set.
Congratulations Milton, you are the 2018 Battle of The Bands winners.
The event was supported by students who fulfilled roles on the door, selling refreshments, video-recording and photographing the event and acting as compere for the evening. The event raised in excess of £600 which will be donated to the charity of choice of the winning House.