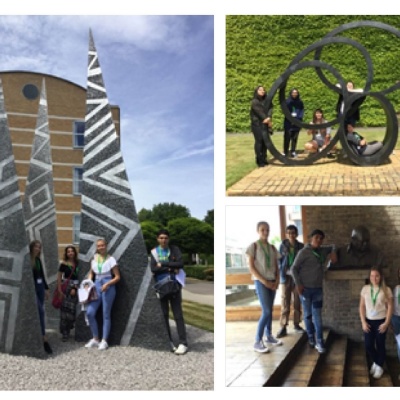 Students in Year 9 from Nene Park Academy, Queen Katherine Academy, Sir Harry Smith Community College, St John Fisher Catholic High School and Thomas Deacon Academy visited Cambridge on Saturday 23 June as part of Insight Explore. Insight Explore is a progressive programme for students in Years 9-11 from Peterborough. The programme aims to help students to develop skills and explore their future options through a combination of events held throughout the year.
The students enjoyed exploring Churchill College whilst taking part in a College Scavenger Hunt with their Student Ambassador. Participants kept their eyes peeled for interesting animals, flowers and sculptures whilst also learning about the support and facilities that Colleges provide. The students also learnt about research skills and were able to meet the Postgraduate Students who will be acting as their academic mentors over the summer.
Insight Discover students, in Year 7 from the respective schools, attended a decorative shoebox exhibition at Peterborough Museum on Monday 25 June. Students on the programme were tasked with decorating a shoebox that reflects their personalities, hobbies and what is important to them. Once they completed their shoeboxes, the Insight team collected the shoeboxes and brought them to the Peterborough Museum where they went on display. Families and supporters were invited to come along to see the effort and creativity put into decorating the shoeboxes. The most creative shoeboxes from each school were selected to go on display in the museum for two weeks after the event for visitors to see.