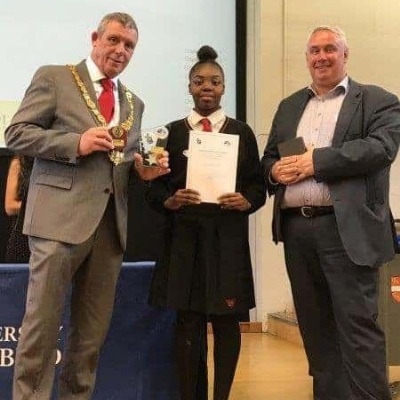 Peterborough student wins national translation competition
Year 8 Queen Katharine Academy student, Kelly De Jesus, has won the National Foreign Language Translation Bee Competition for Spanish.
Cambridge University hosted the Foreign Language Translation Bee National Final, an event run by Route into Languages which saw the best Year 8 and 9 students from across the country come together to compete for the national title. The competition comprised of several rounds and each student had one minute to translate from English to their chosen language, either French, Spanish or German.
Kelly represented the East of England and after a nail-biting final, Kelly won the competition and is now the best translation bee competitor for Spanish in the country this year.
Jane Driver, assistant principal and subject leader for languages at Queen Katharine Academy, said: "We are all immensely proud of Kelly. Her determination has been outstanding and she is a real credit to the academy. Just to get to the National Final is a huge achievement, but to gain first place is very impressive!

"It was great to see our school community come together to support Kelly, from our talented and award-winning staff in the languages department to our Year 9 Language Leaders."