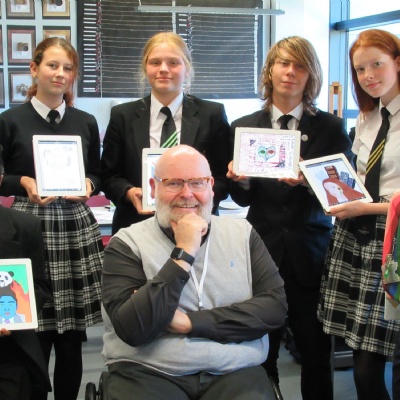 Artist, Jason Wilsher-Mills, mentors art students at Thomas Deacon Academy
Artist Jason Wilsher-Mills has been working with GCSE art students at Thomas Deacon Academy as part of his Arts Council England funded project, Corby Totem's.
Jason began his career as a 'traditional artist' working with oils but personal circumstances led him to explore digital art using his i-pad and he has since made a successful career out of his digital art, receiving commissions from the Houses of Parliament and the Museum of Islamic Arts.
Jason has been working with art students to impart his knowledge and experience of using digital applications to create art and, working on the basis that all art is a self-portrait of the mind, the students have created their own self-portrait using digital methods as opposed to an easel and paints.
The work created by the students will be exhibited professionally at the Rooftop Visual Arts Centre in Corby in January 2019. The students will be invited to attend this prestigious event in addition to the unveiling ceremony of Jason's work and a premiere of the 'Corby Totem's' film in November.
Jason Wilsher-Mills said, 'It was a pleasure coming into Thomas Deacon Academy, as part of the Arts Council England funded Corby Totem's project, as the whole ethos of this residency is about celebrating and exploring what disability is, through art and technology. It was wonderful to be able to introduce the students to these ideas, whilst giving them the opportunity to explore and create intricate self-portraits on the i-pads; creating art about who they are and who they want to be.'
Art Teacher, Mrs Redhead added, 'We feel very privileged to have the opportunity to work with Jason. I feel this has been a good experience for our GCSE Art students, one that has helped with their confidence and group dynamic.
It is such a valuable experience for our students to work with a 'real' artist and see that they can pursue a career doing something they enjoy. Many of the skills learned during this time will be transferrable, supporting our students in all of their subjects. I look forward to the students seeing their finished work in a public exhibition.'