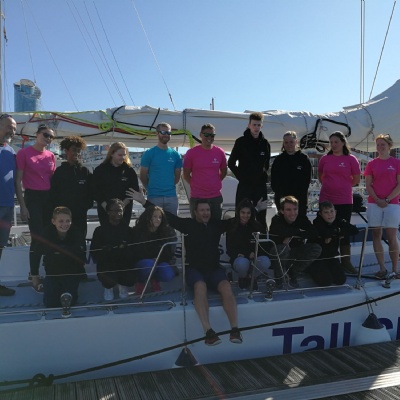 TDET students learn to sail with the Tall Ships Youth Trust thanks to Cross Keys Homes
After securing funding from Cross Keys Homes, QKA and TDA took respective groups of students sailing around the South coast of England with the Tall Ships Youth Trust.
This was a fantastic opportunity for students to get involved in all aspects of sailing, becoming members of the crew in charge of a 72ft Challenger Yacht. The students got involved in the full range of responsibilities of being crew members from stowing and handling sails to working in the galley. They even cleaned the heads (toilets).
The aim of the voyage was to help students develop their personal skills in areas such as confidence and self-esteem, team working, and leadership and communication. Students also achieved a Level 1 Royal Yachting Association qualification on completion of their voyage.
During their voyage, QKA were lucky to host the Tall Ships VIP guest, Simon Le Bon from Duran Duran. Simon is working with the Tall Ships Youth Trust to help raise money for a new yacht and joined the students on the challenger yacht to support them with helming and racing against the Ken Stimpson and UTC students' yachts.
When the sailing was finished Simon spent time talking with the students, after which they cooked him hotdogs for lunch. This was an amazing addition to an already exciting experience for the QKA students.
Daniela, Y10 QKA: "It was a life changing experience and something I wouldn't usually do"
Elvis , Y9 TDA: "I have made a lot of new friends and learnt new things like managing the boat and raising the sails"