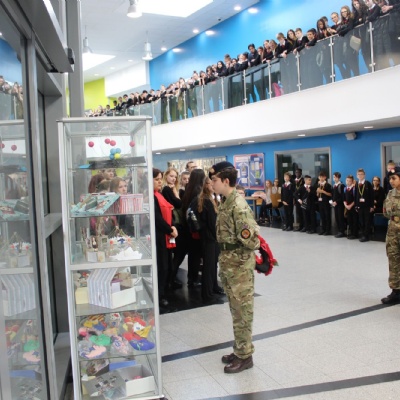 Queen Katharine Academy and Thomas Deacon Academy come together for Armistice 100
Since returning after the summer holidays, students and staff at TDA and QKA have been working hard to prepare for the Centenary Armistice Service and Peterborough Remembrance Day Parade.
The Combined Cadet Force and Peterborough Volunteer Police Cadets have been practicing their drill, while the art department at TDA have been supporting students with the creation of thousands of poppies for the Cathedral art installation. In addition, representatives from the CCF, Army Cadets undertook the Centenary Battlefield Tour in Belgium where they laid a wreath at the Menin Gate Ceremony.
On Friday both schools held an academy-wide Remembrance Service, with students gathering on the balconies to watch the Combined Cadet Force parade behind the Colour Guard to remember the fallen. As the flags lowered, the respective Principals read the poem 'For the Fallen', with the words 'We Will Remember Them' echoed by staff and students, before the Last Post signified two-minutes silence for reflection and remembrance.
As the academies fell silent, poppies fell gracefully from the balconies. The service concluded with the Principal Students reading the names of the fallen before laying a wreath at the memorial lectern, marking the moment the guns fell silent in 1918.
On Sunday, Army Cadets, RAF Cadets and Volunteer Police Cadets gathered in the city centre for the annual Peterborough Remembrance Day Parade. The cadets joined veterans, councillors and other cadet sections from across the city to participate in the Parade led by Canon Black.
This is a lovely example of the schools from the Thomas Deacon Education Trust community coming together to deliver and capture this very special event. We are proud of our Combined Cadet Force and the professionalism showed in respecting the fallen, 100 years after the end of the First World War.
#lestweforget