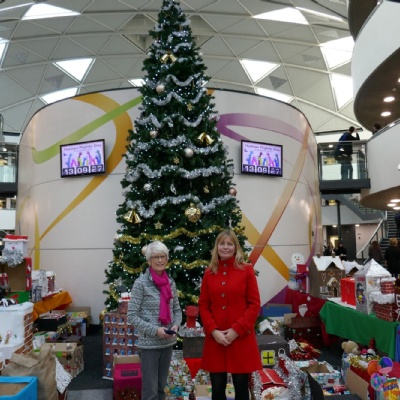 TDA students rise to the Charity Hamper Challenge
Throughout December students at Thomas Deacon Academy have been working in their Tutor Groups to produce festive hampers to help those in need this Christmas.
Three Ways Transport supported the project by donating boxes, which the students have been decorating in a House challenge set by Mr Davison. While the students worked on their creations, donations came in from members of the Academy community and the result has been amazing, with a total of 68 fabulous charitable hampers forming an amazing display around the Academy Christmas tree.
This week representatives from The Peterborough Foyer, New Haven Homeless Shelter, The Soup Kitchen and Age UK visited the Academy to explore the fantastic creations before distribution to the chosen charities.
'I have been absolutely blown away by the creativity, imagination, selflessness and sense of community that has come through as a result of the inaugural Thomas Deacon Academy Charity Hamper Challenge. The support from students, staff and parents has been humbling. As a result of all of their efforts a real difference will be made to the lives of people in our wider community this Christmas', Ian Davison, Head of House.