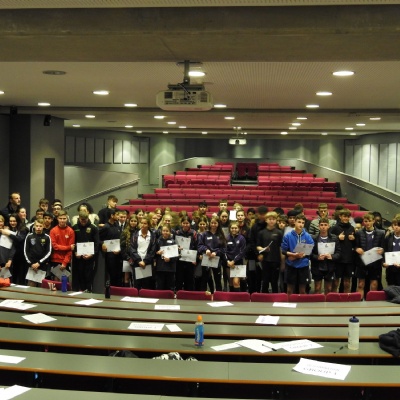 Thomas Deacon Academy leads on a Healthy Living event for the Open Learning Partnership
On Monday 14th January, 60 students from TDA, Prince William School, Kettering Buccleuch Academy and Oundle School participated in Fit4Life, a healthy living event for young people.
The purpose of the event was to explore different aspects of healthy living and provide students with the knowledge and tools to pass their learning onto younger students in their respective schools.
Following an opening assembly, the students rotated around three sessions, working in competitive teams with peers from the other Open Learning Partnership schools. The workshops addressed fitness, healthy eating and motivation through the use of mobile technology.
To conclude the day, Danny Grewcock, England Rugby World Cup player and member of the 2003 winning squad, delivered a closing assembly to present awards to the teams that had embraced the learning opportunity and demonstrated a good understanding of the principles of living a healthy lifestyle.