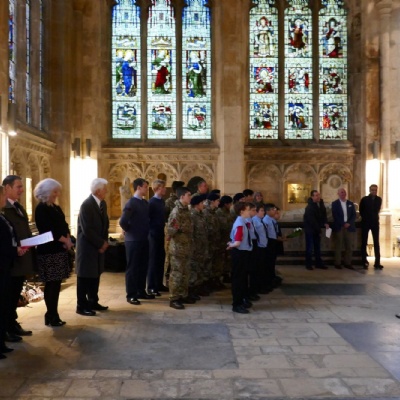 Trust wreath laying ceremony celebrates Peterborough greats
Students from Thomas Deacon Education Trust secondary schools, Thomas Deacon Academy and Queen Katharine Academy, joined members of the Thomas Deacon Foundation for the annual memorial service to commemorate their namesakes and the contribution they made to education in Peterborough.
Canon Black led the service, at Peterborough Cathedral, and following the opening speech, cadets from the academies Army, RAF and Mini Cadet sections were brought to attention to honour the laying of a wreath at the foot of the Thomas Deacon memorial and a pomegranate at the burial place of Katherine of Aragon.
The service continued with readings from TDA Principal Student, Taisza Peplowska and Senior Prefect, Lara Wade and QKA Head Boy, Matthew Sismore and Head Girl, Luna Vicente before the closing prayers.