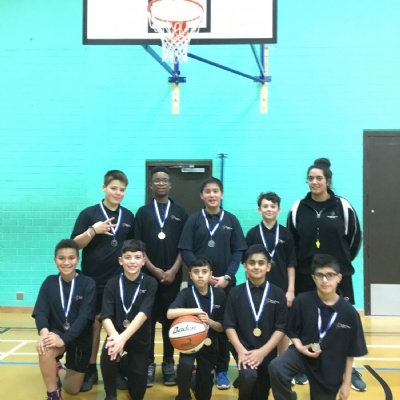 The TDA and QKA Year 7 basketball teams travelled to Ken Stimpson yesterday for the semi-final and final of the Peterborough Schools Cup.
In the semi-final match TDA faced Hampton and QKA faced Ken Stimson. In the TDA game, it was clear that the opposition were in it to win taking the lead by 8-0 at half time. TDA weren't going to give up without a fight and evened the score up to finish 10-6 by full-time.
In the next round TDA played QKA and this time the TDA team were focussed and determined. TDA scored several baskets in quick... succession, demonstrating great skill on the ball, both in their movement and passing. QKA were strong at getting the ball to the basket but couldnt quite manage to convert this to baskets. The score at full-time was 0-8, with TDA taking the win.
Next up it was Hampton vs QKA in a game that would decide who would finish in 2nd place between TDA and QKA. The QKA team showed true grit against a strong team but they couldn't compete with the pace and on-point shooting of the Hampton boys.
The tournament finished with Hampton in 1st place, TDA in 2nd place and QKA in 3rd place. Well done boys, this was a great afternoon of basketball.