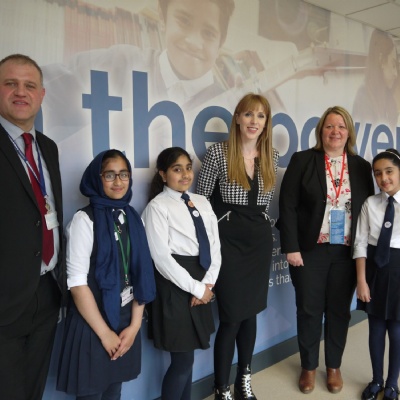 Students and staff at Gladstone Primary Academy were delighted to welcome the Shadow Secretary of State for Education, Angela Rayner, and Labour candidate, Lisa Forbes, to visit the academy on 20th May.
Angela and Lisa were given a tour of the academy building by Year 6 representatives from the academy's Combined Cadet Force, before joining a Maths lesson in Year 4.
The Maths lesson showed the academy's innovative new way of teaching, in which children are taught by their ability and not their age. This has enabled the children to make more progress per lesson and has given them more confidence in their abilities.
Angela and Lisa then met with the academy's teachers and leaders to discuss best practice from across the academy and issues facing the education sector in Peterborough, including teacher recruitment and mobility.
Simon Martin, Director of Primaries at Thomas Deacon Education Trust and Headteacher at Gladstone Primary Academy, said: "We were thrilled to have the opportunity to show Angela and Lisa all the fantastic and innovative teaching and learning that goes on at Gladstone Primary Academy and within our multi-academy trust, Thomas Deacon Education Trust.
"The round table conversation with staff was an excellent opportunity for us to share our successes and the solutions we've put in place to combat barriers facing many schools in Peterborough. I was pleased that there was a genuine interest in what we all had to say and I would like to thank Angela and Lisa for taking the time to visit us."