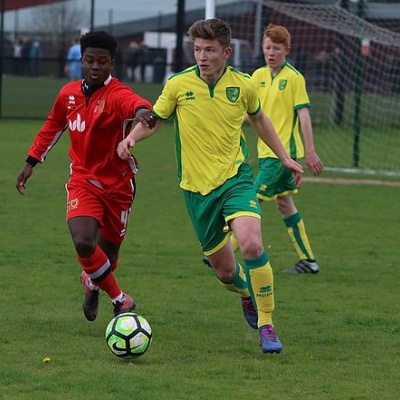 FOOTBALL SHOWCASE EVENING AT THOMAS DEACON ACADEMY
RESERVE YOUR FREE PLACE & FIND OUT MORE ABOUT OUR FOOTBALL & EDUCATION PROGRAMME
Norwich City FC Regional Development Programme for Peterborough are hosting a football showcase evening on Monday 5th February 2018, for current year 11 students.
The evening, held at Thomas Deacon Academy, will combine a football coaching session with information on the Regional Development Programme's innovative male Football & Education Programme for the 2018/19 academic year.
Date: Monday 5th February 2018
Venue: Thomas Deacon Academy, Queens Garden, Peterborough, PE1 2UW
Time: 18.30pm - 20.30pm
Cost: FREE
All players will have the chance to enjoy a training session with Norwich City FC RDP Coaching Staff, as well as the opportunity to find out more about the opportunities on offer from the Regional Development Programme Manager, Dominic Knighton.
The programme combines 11-a-side football development with a 2-year BTEC Extended Diploma in Sports.
If you have any questions about the event or our Football & Education Programme please email us at dominic.knighton@canaries.co.uk or call 07599 347897.