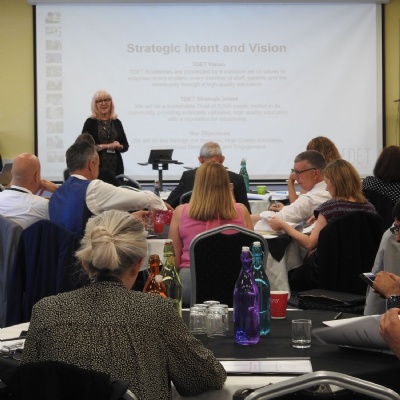 Strategic members from the TDET portfolio of schools come together for the summer conference
As the academic year draws to a close, work behind the scenes continued with the TDET summer conference. Senior Leaders, Trustees, Academy Committee members and members of the Business Services Team came together to consider the strategic intent and vision of the Trust over the next three years.
Chief Executive, Julie Taylor, laid out the vision for the coming years, including further growth and implementing a robust, consistent approach across all schools.
Key speakers Dr Richard Barnes and Jon Peach, talked the delegates through the importance of people, the changes that can be made by working as a team and in bringing your best self to each day.
Feedback from the event was that staff felt motivated and inspired to continue driving forward to make positive changes within their respective schools and across the Trust as a whole.
2019/20 is going to be an exciting year as we move into the next phase of the TDET strategic plan.