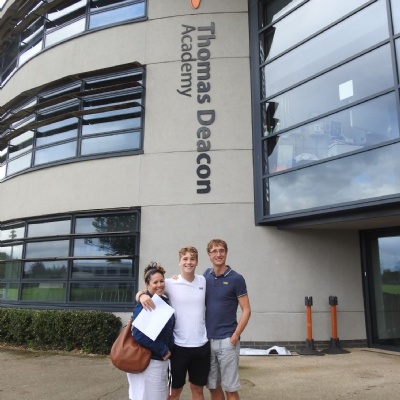 TDET schools celebrate another year of amazing A-Level results
Thomas Deacon Academy students achieved a pass rate of 95% at A-Level and 97% in vocational qualifications. Almost a third of A-Level qualifications achieved were the top grades of A*-B with over 60% of grades at A*-C. Amongst the highest performing subjects were Further Maths, Geography and Photography; these are indicative of the wide range of opportunities available to sixth form students at the Academy.
Particularly pleasing were the results for the Extended Project, in which over 70% of the students gained A*- B passes, and Further Maths, in which 83% of the grades were A*- B.
Principal of Thomas Deacon Academy, Rick Carroll, said: "These results are a real testament to the hard work and partnership of parents, staff and students. A significant proportion of students have fulfilled or exceeded our expectations. These results continue to reflect the hard work put in by students and staff over the past two years."
Meanwhile, Queen Katharine Academy's overall A-Level pass rate was an impressive 100% this year. There has also been an increase in the number of students achieving the highest grades, with more than half of qualifications awarded at the top A*-B grades (51%). Almost three quarters of the academy's results (73%) were A*-C grades. These results continue the run of success at the academy after it was rated 17th in the country for A level progress last year.
Damon Lewis, Director of Sixth Form at Queen Katharine Academy, said: "I'm delighted to say our students and staff have risen to the occasion again this year and have maintained our excellent outcomes at A level, with a 100% A*-E pass rate this year. It is a fantastic feeling to say goodbye to our young people knowing they are well prepared and well set-up for the next stages of their lives."
Julie Taylor, CEO of Thomas Deacon Education Trust, said: "We are thrilled with the achievements at both schools this year. On behalf of the whole Trust, I would like to congratulate all staff and students on their hard work and dedication in achieving such outstanding results."