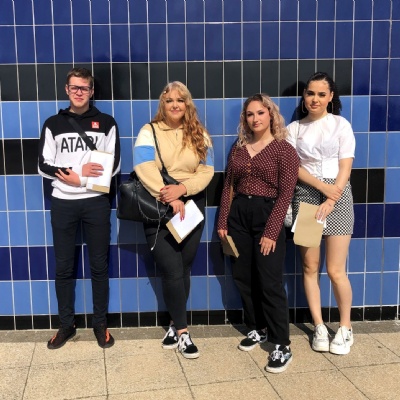 Thomas Deacon Academy and Queen Katharine Academy are celebrating after securing another great set of GCSE results.
Queen Katharine Academy was overjoyed with another year of improved GCSE results and a significant improvement in the government's benchmark Progress measure. The academy has seen its Progress 8 score rise for the second consecutive year, improving from -0.9 in 2017 to -0.6 in 2018 and it should show similar levels of improvement in 2019.
Languages were particularly successful with 100% of students achieving grades 9-7 in Russian, 41% of students achieving grades 9-7 in Spanish and 50% of students gaining grades 9-7 in Urdu. Science results also continued to improve.
Lynn Mayes, Principal at Queen Katharine Academy, said: "I am thrilled with our results as our Progress 8 figure continues to rise. These results are particularly impressive given that over a third of our students arrived during or after Year 9. It highlights our staff's commitment to high-quality teaching and helping students reach their potential.
"I want to congratulate all of our staff and students as they have worked extremely hard over the last two years. To see them rewarded with fantastic results is amazing. Thank you to all our community for supporting us along the way."
Meanwhile at Thomas Deacon Academy celebrated its best-ever set of GCSE results. Nearly 60% of students achieved grade 9-4 in both English and Maths which is a significant 8% improvement on last year. More than a third of all students achieved a strong pass, level 9-5, in both English and Maths.
Principal of Thomas Deacon Academy, Rick Carroll, said: "We are absolutely thrilled by these results. They follow on from last week's strong A level grades and underline TDA's commitment to securing the best possible outcomes of knowledge, skills and character for each student.
"The students collecting their results today are rightly proud of their achievement. Following their GCSE success, we are looking forward to welcoming a high number of the year group back into the TDA sixth form."
Julie Taylor, CEO of Thomas Deacon Education Trust, said: "I am thrilled for both our academies and would like to congratulate them on the success of another strong year for GCSE results. Both Thomas Deacon Academy and Queen Katharine Academy are dedicated to supporting each individual to achieve their potential and these results continue to reflect this."
TDET also works in partnership with Iqra Academy, a girls' independent school in Peterborough. The academy celebrated its best-ever GCSE results with 80% of its students passing five or more GCSEs with a grade 4 or higher. 60% of students achieved the higher 9-5 grades, known as a strong pass, in both English and Maths. A third of all students also achieved the highest possible 9 grade, handed out to the very top students nationally, in Science.
Michael Wright, Principal of Iqra Academy, said: "I would like to congratulate all our students, parents and staff at Iqra Academy for the role they have played in securing our best ever set of results this year."
Julie Taylor added: "I am delighted for Iqra Academy and their students for achieving such great results. We really value our close partnership with the school and look forward to continuing to support them in the year ahead."