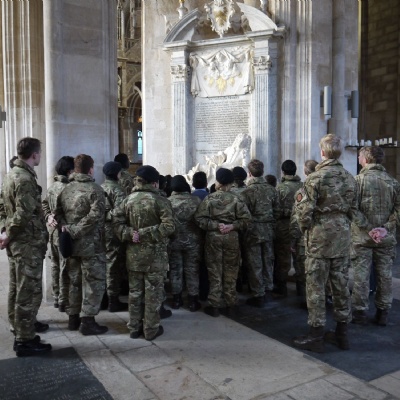 Both academies honoured their local namesakes at a special service held at Peterborough Cathedral.
The ceremony was held on Tuesday 28th January for students, staff and old Deaconians to pay their respects to Thomas Deacon, a scholar in the 17th century who left the funds to open the original Thomas Deacon school, and Katharine of Aragon who was the Queen of England in the 16th century and the first wife of King Henry VIII.
During the service, Adrian Peters, Chairman of the Thomas Deacon Foundation, gave a speech and students from the Combined Cadet Force and Mini Cadets laid a wreath in commemoration of Thomas Deacon. This was followed by a prayer led by Rick Caroll, Principal at Thomas Deacon Academy, and reading by Head Boy and Girl, Ahmet Kucuk and Zoe Newson.
Lynn Mayes, Principal at Queen Katharine Academy, gave a reading about Katharine of Aragon before cadets placed a pomegranate on her grave. The pomegranate is often used to commemorate Kathrine of Aragon as a symbol of her birthplace.
Thomas Deacon and Katharine of Aragon were both huge advocates for education and campaigned tirelessly to provide opportunities for young people. As a Trust, we continue to strive for better opportunities for our young people and offer the best possible education.
Well done to our students from both academies for paying their respects with great honour and gratitude. Thank you to Peterborough Cathedral for welcoming us every year for this special event.
Queen Katharine Academy also attended the Commemoration Service at Peterborough Cathedral for Katharine of Aragon on Friday 24th January. During the service, four students from the academy read passages about her life with one of their language ambassadors reading in Spanish. Four candles were also lit to represent Katharine of Aragon's values of Faithfulness, Love, Peace and Forgiveness.