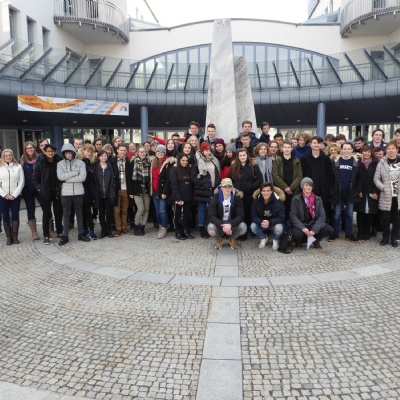 Students travel to Austria for the next stage of the Erasmus+ Fair-trade Project
Five students from Thomas Deacon Academy, travelled to Klagenfurt in Austria for the latest transnational project meeting of the Erasmus+ Fair-trade Project. The students were joined by project partners from Italy, Slovakia, Germany and Denmark and all stayed with Austrian host families for the week.
During the visit, the students took part in workshops at the HTL Mossingerstrasse Technical College and enjoyed presentations from Climate Alliance Austria, Welt Laden (Fair-trade suppliers) and Herzghat (producer of up-cycled bags).
In addition to the workshops and presentations, the students experienced Austrain culture with visits to castles, monasteries and churches, a day trip to Graz, Austria's second largest city and a day in the mountains where they were treated a think layer of snow and views across Lake Worthersee and the mountains.
This was the penultimate visit of the project with the final visit taking place in Italy in March 2018. During this visit students will work on producing their own fair-trade products.