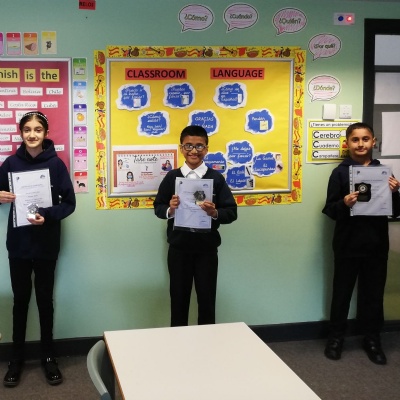 Pupils, staff and parents at Gladstone Primary Academy are celebrating after pupils took home first, second, third and fourth place at a national languages competition.
Four Year 6 pupils at Gladstone Primary Academy entered the Primary Bee this year, which is a national languages competition run by Routes into Languages and sponsored by Vocab Express.
The Primary Bee challenges Year 5 and 6 pupils' language skills by asking them to translate as many phrases as they can into either French, Spanish or German. They are then evaluated on the quality of their pronunciation as well as how many words they could translate within a minute.
At Gladstone Primary Academy, so many pupils wanted to enter the competition that the school held a mini contest in school to select their contenders for the national championship. Four Year 6 pupils were chosen and went on to successfully win an impressive first, second, third and fourth place. Moshin won first place, followed by Ali in second, Kianaat in third and Maya in fourth.
Carlota Camara, Subject Development Lead for Spanish and Spanish teacher at Gladstone Primary Academy, said: "I am so proud of Moshin, Ali, Kianaat and Maya. They did exceptionally well, and their knowledge of the Spanish language is outstanding. They represented the academy brilliantly and we are thrilled for them.
"While many schools have reduced the amount of time spent teaching languages as a result of the pandemic, at Gladstone we continue to see them as a priority. Teaching languages at primary school is essential to preparing pupils for their move to secondary school and ensuring they have the base knowledge and confidence to thrive.
"It is fantastic to see all our pupils enjoy and excel at languages. Many of our pupils at Gladstone are English as an Additional Language (EAL) and learning a new language creates an even playing field for everyone in the classroom. I teach the whole lesson speaking in Spanish and it so rewarding to see pupils' vocabulary and understanding build throughout the academic year. To see some of our pupils being recognised nationally is the cherry on top!"
Simon Martin, Headteacher at Gladstone Primary Academy, added: "I am immensely proud of our pupils who have not only had the confidence to compete at a national level but have done so incredibly well. Languages are very important to us at Gladstone as speaking another language is an important skill that our pupils can take with them throughout their lives."
To find out more about Gladstone Primary Academy, please visit www.gpa.education.