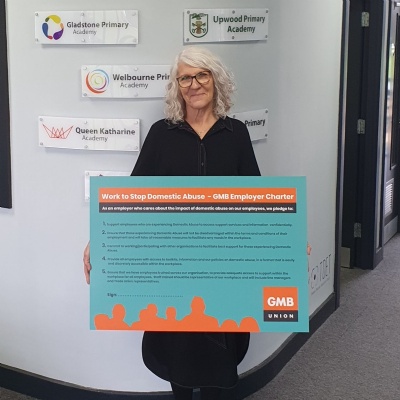 Thomas Deacon Education Trust (TDET) has signed the Work to Stop Domestic Abuse GMB Employer Charter.
TDET is the first multi-academy trust in Peterborough to sign the charter, which seeks to support employees who may be experiencing domestic abuse by signposting to confidential services and information.
Chief Executive of TDET, Julie Taylor, commented: "At TDET, our biggest asset is our people and our academies simply could not exist without them. Our colleagues are vital to improving outcomes for all our pupils, whether directly teaching in the classroom or providing important services to keep the academies safe.
"Our Trust is committed to ensuring that our staff and pupils are given the support and resources they need to stay safe in our academies and in their homes. This charter will ensure that we provide any staff experiencing domestic abuse with well-informed, helpful support. I am really proud of the Trust for committing to this and demonstrating our values and support for one another."
Gordon White, GMB Regional Organiser, said: "GMB, the Trade Union for support staff, created the Domestic Abuse charter to help and give a voice to those who suffer domestic abuse, for whom the workplace is a place of refuge and safe haven.
"Domestic abuse has a devastating impact on individuals and their families and people experiencing such abuse can often, through no fault of their own, become subject of disciplinary action or job loss. The commitment from TDET in signing the GMB Charter and adopting the Policy will encourage a supportive and safe working environment for all staff within TDET.
"By signing the charter, TDET has pledged to ensure its academies are a source of support and a safe place for staff to be. TDET will train managers on how to support staff experiencing domestic abuse, provide a 'domestic abuse in the workplace' toolkit to all staff, offer flexible working environments for staff, and understand how to deal with any emergencies that may arise in relation to crisis funds or transport."
The charter was signed on behalf of the Trust by Chief Executive, Julie Taylor, and Head of Human Resources and Organisational Development, Jodie McDonald.