Welcome from Scott Hudson, Acting Chief Executive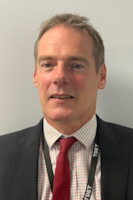 It is a genuine privilege to welcome you to Thomas Deacon Education Trust. We are a future-focused multi-academy trust and charitable organisation dedicated to raising educational outcomes and transforming the lives of our students and families across a diverse range of primary and secondary phase academies in Peterborough and Cambridgeshire.
Each of our academies has its own identity and is empowered to innovate according to its context and locality. However, we are connected through a common set of values – Trust, Diversity, Excellence, and Transformation. In this way, our students gain the very best of opportunities and experiences within a value-driven framework in order to prepare them for the world of the future. Our academies work closely together, taking part in real and meaningful collaborations between teachers, students, local businesses, and higher education. We firmly believe that the Trust as a whole is more than the sum of its parts.
The Trust currently comprises ten educational partners, including seven academies, and caters for over 5,000 students from Nursery to Post 16. The Trust employs over 700 staff with an annual turnover of over £27 million. We continually share good practice and collaborate on the important aspects such as curriculum, assessment, and continuous improvement of teaching and learning. We are extremely proud of the achievements of each of our academies and the advancements that are being made.
We also know that the world is changing rapidly and we must remain flexible and at the cutting edge of research and development. We offer structured career pathways for all staff supported by high quality professional development and action research so that we all learn together. The Trust is firmly committed to achieving educational and business excellence, and being both the employer and educator of choice.
Whilst the above provides a snapshot of the Trust, we look forward to welcoming you in person and sharing our exciting vision with you in more detail.
Scott Hudson
Acting Chief Executive
Thomas Deacon Education Trust